Global Methane Forum 2018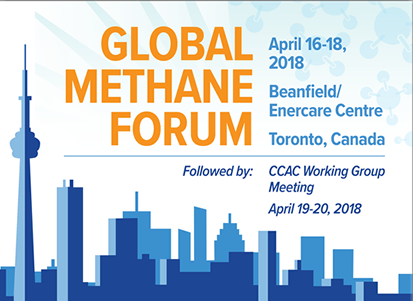 16–18 April 2018
Location: Toronto, Canada
Organizer: Global Methane Initiative, the Climate & Clean Air Coalition (CCAC), and the Government of Canada
Visit the event website for more information: https://www.globalmethane.org/gmf2018/index.html
Event Details:
Join your fellow methane experts and policy-makers from around the world to discuss options for methane reduction and abatement activities. Organized by the Global Methane Initiative, the Climate & Clean Air Coalition (CCAC), and the Government of Canada, the Forum will be held back-to-back with a CCAC Working Group Governance meeting, which will take place at the same venue on April 19-20.
This unique opportunity will grant access to:
High-level plenary sessions on cross-cutting issues such as project financing.
Technical sessions on biogas (agricultural sources, municipal solid waste, municipal wastewater systems), coal mines, and oil and natural gas systems.
Joint GMI Subcommittee – CCAC Initiative level discussions on policy and projects.
Site visits in the Toronto area highlighting innovative technology.
Opportunities for networking with methane experts in the public and private sectors from around the world.
Visit the website for details about the
agenda, speakers
,
venue and hotel accommodations
, and
presentations
.
Industry Sector: Biogas, Coal Mines, Oil and Gas, Steering, Agriculture, Municipal Solid Waste, Wastewater