Methane to Markets' Projects in the Spotlight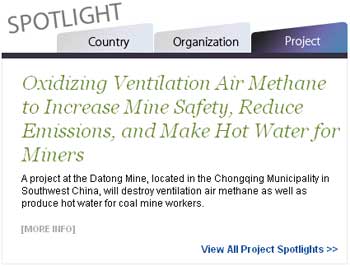 Many methane capture and use projects have gone from concept to reality in the short time Methane to Markets has been operational. Now you can read all about them on the Partnership's website. Highlighted at the 2010 Partnership Expo, these project spotlights include agriculture, coal mines, and landfill projects from Brazil, China, India, and Ukraine. All have been completed and are helping to reduce emissions by more than 6 million metric tons of carbon dioxide equivalent annually. One of the projects, the Datong mine project, located in the Chongqing Municipality in Southwest China, will destroy ventilation air methane (VAM) with methane oxidization technology. The heat generated during oxidization will be used to produce hot water for coal mine workers. Another project, Frigorífico Mabella, a nine-year-old pork processing, swine production, and trading company in the Matto Grosso province of Brazil, will be using biogas to provide electricity to the farm. Read more about these and other exciting methane capture and use projects on the Methane to Markets website.
Infrared Heater Project Operational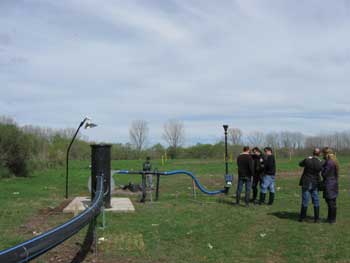 Argentina's Solid Waste Association (ARS)

has been working for the past three years to develop a pilot-scale project that recovers landfill gas (LFG) and uses it to fuel infrared heaters. In 2007, ARS received a Methane to Markets grant for $125,000 from the U.S. Environmental Protection Agency

to create a project that uses LFG to fulfill onsite energy needs. ARS selected the Escobar Landfill in Buenos Aires, Argentina, to be the site of the project. Currently, the Escobar Landfill has an operational LFG project where an infrared heater uses 15 standard cubic feet of LFG per minute to supply onsite energy needs. By substituting LFG for a fossil fuel, ARS calculated that the net avoidance of greenhouse gas emissions will be nearly 515 metric tons of carbon dioxide equivalent per year. In addition, the project will yield local air quality improvements by reducing local greenhouse gas emissions. When the heaters are not in use, the landfill will flare the LFG.
Landfill Gas Workshop
On 2 June 2010, landfill owners and managers, government officials, project developers, and project financiers will meet in Buenos Aires, Argentina, for a workshop on the basics of LFG projects. Entitled "Creating Viable LFG-to-Energy Project in Latin America," the workshop will provide an overview of the landfill sector, explain LFG-to-energy systems, and review the basics of project planning. Speakers will share strategies to bring a landfill online as well as insights into project design and financing. Representatives from Methane to Markets Partner Countries will present specific opportunities and project models for landfill methane capture and use in Latin America, as well as financing and incentive programs. The workshop will be held after the International Solid Waste Association Beacon Conference

, also being held in Buenos Aires. More information and the agenda (PDF, 2 pp., 159 KB) are available.
Recent Developments
Methane to Markets Included in New Draft Senate Climate Bill
On 12 May 2010, U.S. Senators John Kerry and Joe Lieberman released a draft of a climate change and energy bill, entitled the American Power Act (PDF, 987 pp., 1.7 MB)

. The bill would place emissions limits on approximately 7,500 U.S. factories and power plants whose operations emit more than 25,000 tons of greenhouse gases each year.
The bill includes methane collection from mines, landfills, and natural gas systems, as well as manure management and anaerobic digesters, in the initial list of eligible project types for domestic emission reduction offsets. The bill also recognizes the important work of the U.S. EPA and other U.S. government agencies to promote international methane reductions through such programs as the Methane to Markets Partnership.
Send in your announcement for our next issue. Also, visit the news and events page for information on past Methane to Markets gatherings.