2024 Global Methane Forum
Mobilizing Methane Action
18-21 March 2024 • Geneva, Switzerland
---
Registration is now open!
The 2024 Global Methane Forum is free to attend.
Register today
to join us either in person or virtually.
The 2024 Global Methane Forum is a premier global event that will bring together global thought and industry leaders in Geneva, Switzerland from 18-21 March 2024 to promote replicable methane mitigation successes and mobilize action to achieve ambitious methane emission reductions. This event will be organized jointly with the UN Economic Commission for Europe's Group of Experts meetings – the 19th Session of the Group of Experts on Coal Mine Methane and Just Transition, and the 11th Session of the Group of Experts on Gas.
The goals of the 2024 Global Methane Forum are to:
Convene and inspire high-level international participants to advance action to achieve ambitious global methane mitigation targets;
Highlight methane mitigation activities, including to achieve the goals of the Global Methane Pledge;
Share information about technical, policy, financing, and regulatory issues related to methane policy and project development; and
Engage and enhance private sector participation in methane mitigation.
Who should attend?
The target audience includes national and international policy makers, country representatives, methane capture and use project developers, site and/or project managers, financial institution representatives, scientists, researchers, and industry experts.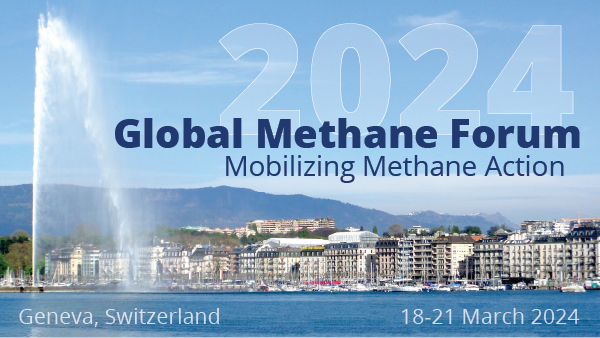 Why should you attend?
Learn about global efforts to reduce methane, including the benefits of mobilizing action, the latest on policy and practices by governments and industry, the importance of data, and successful financing strategies for implementation
Engage with representatives from around the world about methane reduction and mitigation opportunities, activities, and lessons learned
Connect with technical experts in breakout sessions on biogas (agricultural sources, municipal solid waste, municipal wastewater systems), coal mines, and oil and gas systems
Showcase your technical and policy achievements, leadership, and experiences on methane
Participate in discussions that will shape the future of methane action in GMI Partner Countries and UNECE member States
Attend meetings of the UNECE Group of Experts on Coal Mine Methane and Just Transition and Group of Experts on Gas
Celebrate the 20th anniversary of GMI
---
Stay Informed
Sign up for our mailing list to learn more about the 2024 Global Methane Forum as details are confirmed.