Finding Resources
The GMI maintains a large collection of resources about methane abatement, recovery, and use. These resources are collected from events, projects, Partner Countries, Project Network members, and other organizations that support related programs.
Getting Started
Integrated Search
With a keyword or phrase, you can quickly find resources.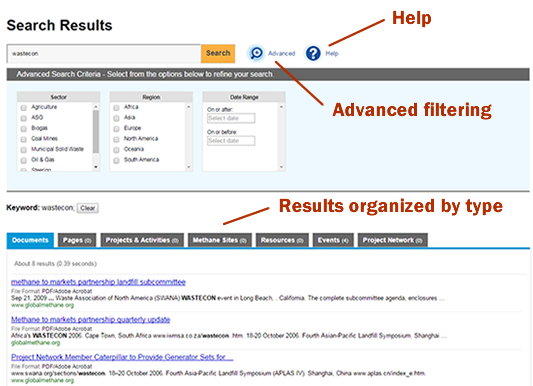 Resources include:
More than 2,000 documents, including technical presentations, fact sheets, and reports
Information about projects and activities at approximately 3,000 methane sites
Details about hundreds of events such as conferences, meetings, workshops, and trainings
Points of contact for the GMI, Parner Countries, and members of the Project Network
A set of filters are also available from the advanced search that can help to refine your results. For example, you can use the advanced search to narrow results by sector or date.
Browsing
Whenever possible, relevant resources are listed within each topic area.
Use the blue navigation bar at the top of the website to quickly browse through the website.
Information is presented by sector and country, from which you can access related resources and information about relevant events. To gain a better understanding of how the GMI is organized by sectors, please visit About GMI.
The tools and resources page provides direct access to recent proceedings, fact sheets, reports, and action planning guidance. Many resources are also available in Chinese, Italian, Russian, and Spanish.
Visit the events page to find information about past and upcoming events. Details for each event are provided, including such resources as agendas, meeting minutes, and links to event websites.
Answers to frequently asked questions may also help you to get started.