About the Initiative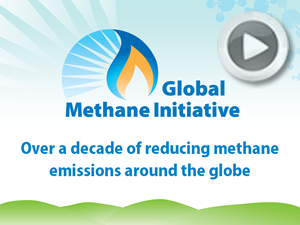 Launched in 2004, GMI is the only international effort to specifically target methane abatement, recovery, and use by focusing on the five main methane emission sources: agriculture, coal mines, municipal solid waste, oil and gas systems, and wastewater. The Initiative works in concert with other international agreements, including the United Nations' Framework Convention on Climate Change, to reduce greenhouse gas (GHG) emissions. Unlike other GHGs, methane is the primary component of natural gas and can be converted to usable energy. The reduction of methane therefore serves as a cost-effective method to reduce GHGs and increase energy security, enhance economic growth, improve air quality and improve worker safety.
Purpose
GMI is an international public-private initiative that advances cost effective, near-term methane abatement and recovery and use of methane as a clean energy source in four sectors: agriculture, coal mines, municipal solid waste, oil and gas systems, and wastewater. These projects reduce GHG emissions in the near term and provide a number of important environmental and economic co-benefits such as:
Stimulating local economic growth
Creating new sources of affordable alternative energy
Improving local air and water quality, with associated public health benefits
Increasing industrial worker safety
The Initiative reduces the informational, institutional, and other market barriers to project development through the development of tools and resources, training and capacity building, technology demonstration, and direct project support. Special emphasis is given to bringing together all of the actors necessary for project development, including governments, financial institutions, project developers, technology providers, and others. More detailed information about the Initiative can be found in Global Methane Initiative: An Overview (PDF, 2 pp., 1.0 MB) and Frequently Asked Questions.
Structure and Organization
Select a box in the graphic below for specific member lists.
GMI is organized with the aim of providing support to project development with active engagement from the private sector. The Terms of Reference explains the organizational framework of the Initiative, which consists of a Steering Committee, five technical subcommittees, the Project Network, and the Administrative Support Group (ASG).
The Steering Committee guides the work of the Initiative and is supported by the ASG. It governs the Initiative's framework, policies and procedures (e.g., Partner Action Planning Guidance (PDF, 7 pp, 191 KB)). Partner Countries may appoint up to two representatives to the Steering Committee. All Partners are considered Steering Committee "observers" from the time they join the Initiative. Twelve months after joining (and any time thereafter), Partner Countries may request to become a Steering Committee member via a letter to the ASG that outlines their engagement (PDF, 1 pp., 16 KB) in the Initiative to-date.
The technical subcommittees are organized according to sources of methane emissions. Partner Countries appoint technical experts from either the government or the private sector to the technical subcommittees. Contact information for Subcommittee representatives is available here (agriculture, coal mines, municipal solid waste, oil and gas systems, and wastewater). Each subcommittee has developed a Subcommittee Action Plan that identifies the needs, opportunities and priorities for project development globally as well as key barriers and strategies to overcome them. The Subcommittees are now focusing their efforts on assisting with development of Partner Sector Action Plans (PDF, 3 pp, 139 KB) to provide more detailed information to assist project development in each respective Partner Country. The technical subcommittees also facilitate investment and financing opportunities and other cooperative activities and projects that advance the abatement and recovery of methane and its use as an energy source.
The Project Network consists of organizations from industry, the research community, financial institutions, state and local governments and other expert stakeholders with an interest in developing and supporting methane abatement, recovery, and use projects in Partner Countries. Project Network members share their technical expertise, experience, and financial resources and are encouraged to attend subcommittee meetings and participate in developing sector-specific Action Plans. They also participate in specific activities such as capacity building, technology transfer, and outreach. By participating in the Project Network, these organizations are identifying potential project opportunities, making connections, staying informed and gaining recognition for their achievements. The Project Network membership has increased nearly ten-fold since 2004.
The Administrative Support Group (ASG) currently hosted by the U.S. Environmental Protection Agency, serves as the secretariat for the Initiative by providing administrative and logistical support and also serves as an information clearinghouse.
Benefits
As a result of its efforts, the Initiative expects to achieve significant economic, environmental, and energy benefits. When GMI was launched in 2004, it was estimated that by 2015, the Initiative had the potential to deliver estimated annual methane emission reductions of more than 180 million metric tons of carbon dioxide equivalent (MMTCO2E), or the equivalent of:
More than 760 billion cubic feet of natural gas.
CO2 emissions from nearly 420 million barrels of oil consumed.
Annual emissions from 76 500-megawatt (MW) coal-fired power plants.
If achieved, these reductions could lead to stabilized or even declining levels of global atmospheric concentrations of methane. More information about the benefits associated with methane emission reductions can be found in the About Methane section of this website or in Global Methane Emissions and Mitigation Opportunities (PDF, 4 pp., 2.5 MB) (December 2015).